With the outbreak of corona and digital content and growth marketing being more relevant than ever,  the  content team garnered  new  major accounts with  clients such as Samsung, The Park, Auping, Niko, and TADAAM.  Not only have they delivered in the  strategy and  creativity  departments,  but  they  have also  become well versed  in measuring the impact of their projects. Furthermore, making them ready and able to cater to their clients' very specific demands of integrating earned,  owned,  and shared media.  

"
I am very happy with the rapid expansion and performance of the content team. They have become an important business driver in the agency. We are looking to expand the team to 25 experts within the next two years, across the Benelux. We look forward to our continual search for innovative social media talent.
— Werner De Smet, CEO OONA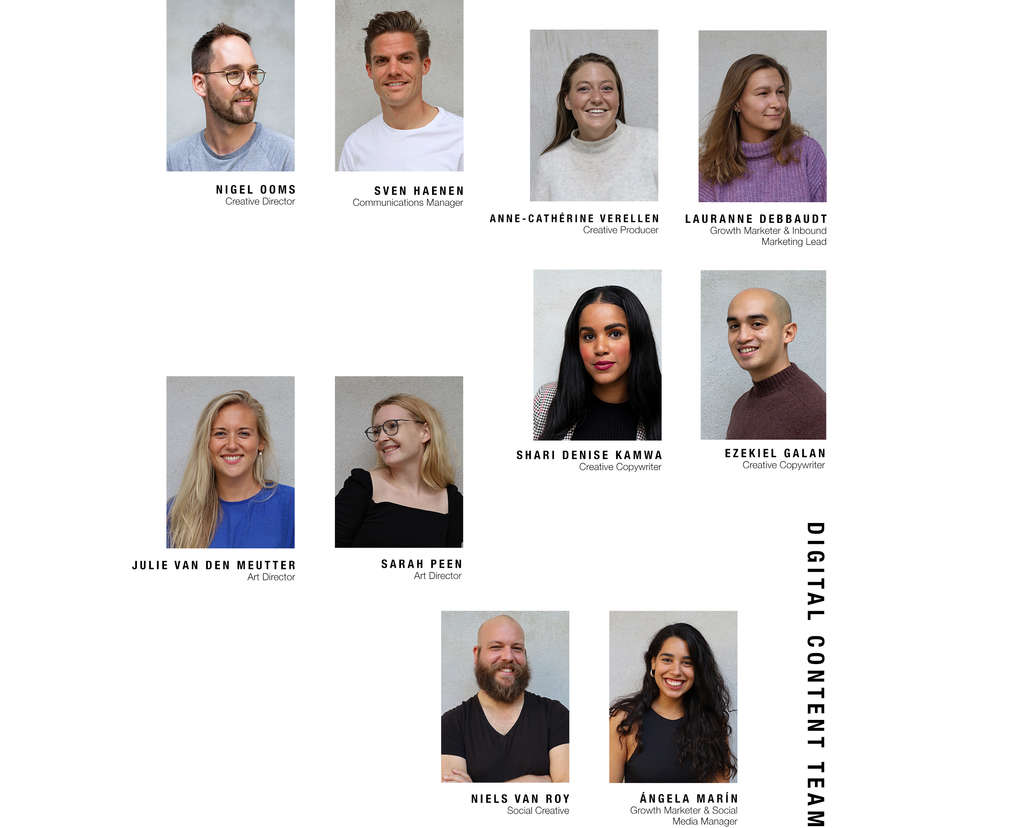 "
In the end, hard work pays off.  Or shall we say that it's only the beginning. The content team, in collaboration with the oona Beauty experts, had its first taste of awards with their  Udäv  Krit  case for  Kruidvat. The case won a Gold in "Best  Influencer Campaign" and Bronze in "Best Digital Campaign - Commercial" at the IAB MIXX Awards 2020.  Not only did  Udäv  Krit's  success see  awards but  the campaign also outperformed all KPI's and attracted a substantial amount of new consumers to Kruidvat. Next to that, the campaign  reached 23 million people across the Benelux  with a social media campaign worth 5.8 million impressions.
— Nigel Ooms, Creative Director
ABOUT THE CONTENT STUDIO EXPERTS

Ángela Marín  (Growth Hacker & Social Creative)  is a graduate of Advertising and Public Relations from the Universidad Complutense de Madrid. She previously worked as an Inbound Marketeer at Board of Innovation, in Antwerp. In the past 4 years, she has worked in 4 different  cities:  Madrid, Milan, Dublin and Antwerp.  Here at oona, her data driven mindset has led to her  creating  dashboards  that can measure just about everything that we do. 
Anne-Catherine Verellen  (Creative Producer) graduated with a  Master's in International Marketing  from the  Hult International Business School. During that time, she  had  studied in New York, Boston, and Shanghai.  Before oona, she was a Project Consultant at Unique Career Belgium, having worked with the DEME group and OCE BIO.  
Niels Van Roy (Art Director & Creative) is a  passionate, seasoned  designer  with  a  broad skill set; specializing in Animation. He graduated from the RITS School of Arts, in 2014. Since then, he's worked for Design is Dead, Lonely Alien and Videofy.be and has also been carrying out freelance design work for the past 7 years.
Creative Duo:  Sarah Peen Andersen  (Art Director) and Ezekiel Galan  (Creative Copywriter)  formed their bond  as  creative  partners and friends during their time  as Portfolio Development students  of  Miami Ad  School Europe,  Hamburg.  During that time,  Sarah  became the recipient of  the Cannes, Young Lion  Award in  2019.  Collectively, they had also both interned at 6 different cities such as in  Berlin,  Milan,  New York,  Stockholm, Vietnam,  and  Zurich.
Julie Van den Meutter (Art Director) graduated with a Master's Degree from the LUCA School of Arts, in Antwerp and Ghent. She has been at oona for the past 3.5 years and since then become its resident powerhouse Art Director. Julie is notably responsible for elevating oona's current visual brand identity to what it is today.
Lauranne Debbaudt (Growth Marketer and Inbound Marketing Lead) was initially part of the TGR team and joined the Content Studio over a year ago. This X-Googler graduated with an MBA in Management Innovation and Entrepreneurship from the Antwerp Management School. Lauranne continues to find new ways to push the limits of her marketing (and marathon) skills.
Nigel Ooms (Creative Director) graduated as a Master of Science in Industrial and Production Design from the University of Antwerp. He then shifted his career, notably having worked in Strategy at oona and Creative at TBWA before returning to oona as Creative Director. This expert strategist turned multi-hyphenate creative, is learning to balance the two while already leading his team to award shows. He's also the inventor of the hoeku, the slutty haiku.
Shari Denise Kamwa (Creative Copywriter) is a Fashion Journalism graduate of Solent University. She started her career in Beauty and Fashion journalism working for publications such as Flair.be and Talkies Magazine. She then stepped over to the dark side (aka PR), and has been thriving ever since. No one knows the tonalities of oona and all its clients better than she does.
Sven Haenen (Communications Manager) is a graduate of Public Relations and Communications from the AP Hogeschool Antwerpen. Having previously worked as an Account Manager for Ketchum, Brussels, Sven then joined the oona team in its Food and Beverage department. When Sven isn't seamlessly bridging the gap between the Content Team and their clients; you can find him climbing up the mountains with his race bike.
ABOUT OONA
We are a rapidly growing communications agency with a unique vision of PR, social media and content marketing. With hubs in Antwerp, Ghent & Amsterdam, we keep our finger on the pulse in the Benelux. In an increasingly digital world, we believe that real relationships are becoming increasingly important. Only by connecting the personal with the digital can you truly craft stories that people find fascinating. Everybody loves a good story, right?
Every day, clients such as Nike, Telenet, Levi's, IKEA, L'Oréal, Diageo and Nespresso challenge us to reinvent ourselves, our stories and our methods. Since 2003, this has allowed us to build a solid portfolio, team and reputation. That's why we are continually investing in our organization, teams, offices and tools to remain the successful agency we are today.