To explore these developments and help marketers conceptualize their long-term influencer marketing strategies, CreatorIQ asked oona, among other industry experts, to compile trends and projections for 2021. As well as more long-term predictions for the succeeding years to help marketers develop strategies to stay ahead of the curve.
2020 trends & learnings
1. ONE-OFF COLLABORATIONS ARE NO LONGER SUSTAINABLE
Brands that didn't invest in long-term relationships will be playing catch-up in the years to come. During the pandemic, brands learned the value of authentic ambassadors. Ones who have outperformed KPI's by posting more for the brands they have a continuous partnership with. Now more than ever, influencers are asking for more ambassador level partnerships rather than a quick collab. oona's brand ambassador programs for brands such as Samsung, PepsiCo and Levi's have had up to 50% more output, 25% more reach and 35% more engagements compared to the year before COVID-19.

2. GEN Z ARE DRIVERS FOR MORE AUTHENTIC CONTENT
With budget cuts, brands have been more open to small scale experimentations. Switching from saturated platforms such as Instagram and YouTube to newcomer, TikTok. With more than 70% of its Benelux users being younger than 18, it's a teenage force to be reckoned with. Content has shifted from carefully curated to more real and even outright political. Creators who showed entertaining, inspiring and educating content have thrived and gained a mass following.
3. PAID MEDIA AMPLIFICATION OF INFLUENCER CONTENT IS REPLACING TRADITIONAL ADS
Influencer marketing strategies have become more tested-and-approved. Performance is being measured beyond reach and engagements while brands are focusing on a full-funnel impact. Paid amplification of influencer content has become a common practice to increase the campaign's impact. It allows for greater reach, sophisticated audience targeting and the opportunity to track the consumer journey towards conversion. oona's recent case for Doritos on TikTok is a perfect example. We created a TopView ad to drive downloads of the Google Voice x Doritos game. Instead of generating a regular ad, we co-created a video with influencer @saarbabby to make it fit like a glove on the Gen Z driven platform.

2021 predictions & tactical recommendations
1. 50% ART & 50% SCIENCE WILL RULE THE DATA-DRIVEN INFLUENCER MARKETING OF TOMORROW
This year will be all about those lower funnel KPI's and brands trying to crack the sales-driver code. Combining the art of influencer marketing with science has always been the ambition of oona. And thanks to CreatorIQ's data intelligence, we'll be accelerating on the science part in the upcoming months by running more experiments for our clients to nail down the formulas that forecast the consumer journey from viewership to conversion.
2. SOCIAL MEDIA PLATFORMS ARE ADAPTING TO DRIVE SHOPPABLE FEEDS & FIRST-PARTY SALES
The major players are going all-in on adapting their platforms to drive first-party sales. Google announced its plans to turn YouTube into an e-commerce platform through its integration with Shopify. Facebook introduced a new Shop Tab, which is placed prominently in Instagram's UI. The new shopping features will likely change consumer behavior on these platforms. Marketers are gearing up to make fair use of these direct-sales by amplifying their potential with influencer content. Making influencer content shoppable highlights two opportunities, according to CreatorIQ. It provides audiences with the opportunity to shop or book your products directly from a trusted source. It allows you to measure last-click sales resulting from influencer content more directly.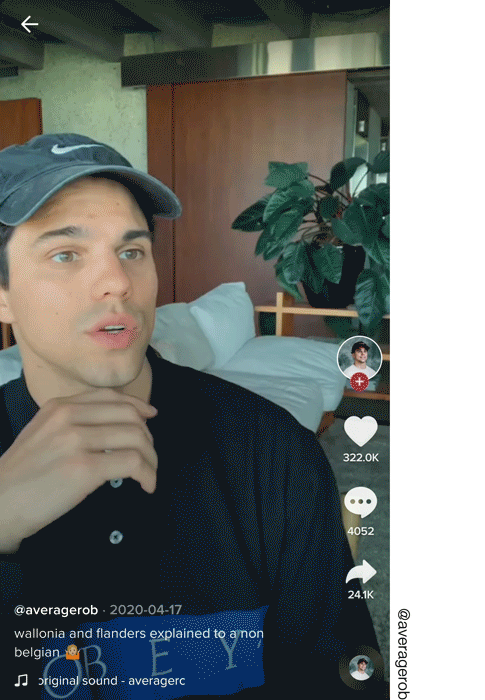 3. CREATIVE CONTENT EATS AUDIENCE SIZE FOR BREAKFAST
Over the last few years, we've observed that audience size will continue to take a back seat to content quality as influencers become ambassadors and true brand lovers, reinforcing the value of strengthening relationships with influencers. Marketers are advised to invest in influencers whose content and ethos best resonates with the brand instead of focusing on their follower numbers. The one-off transactional nature of influencer marketing aimed to reach the widest possible audiences is a thing of the past. Investing in relationships with the influencers who will become your brand advocates now will set up your strategy for more sustainable success in the future. The algorithms on platforms like TikTok are also set-up to spot creativity and boost videos from creators that reach a bigger audience than the one that already follows them. We see innovative creators like Average Rob, with 143K followers on TikTok having up to 650K views on a video. These numbers are just a dream for most Instagram native creators.
The next five years of Influencer Marketing
1. POST-COVID WORLD AND THE RETURN OF IRL EXPERIENCES
Although 2020 made room for more relatable content, pushed by influencers having to re-invent themselves with travel being banned, the craving for IRL experiences has never been greater. As the world works to return to a pre-COVID normal, 2022 brings with it the hope of traveling and gathering again. This will be reflected in the content we will see from brands. Experts predict that the hunger for authentic, short-form, Gen Z driven content is here to stay, coupled by a re-emergence of experiential activations. Younger audiences want to see brands humanize themselves and their messages no matter what form that takes.

"
With Gen Z becoming one of the most important target audiences for brands, the content will become more and more real and less edited. Gen Z wants to see brands act as humans and social media influencers can play a vital role in buffering that need.
— Shanice Engel, Influencer Marketing Expert at oona
Brands need to ask themselves if the investment in international trips is still worth the return and whether their messages might resonate better when brought in a more approachable and relatable context.

2. INFLUENCERS BEING PART OF ELECTION CAMPAIGNS
While politicians are looking for new ways to connect with their voters, social media will continue to be a cornerstone for campaign efforts. As influencers have become more vocal on social media about their beliefs, this might provide a platform for politicians to build relevance and connections with a younger audience. And some politicians are becoming social media stars themselves. Belgian politician, Conner Rousseau (@kingconnah), has shown how his 111K followers are seeing him as more than a political leader. His popularity has grown immense after his appearance of the Belgian TV show "De Slimste Mens". Following the success of young politicians in delivering their messages on social media in recent years, we can expect a genuinely influence-driven election as Gen Z comes into voting age and digital natives continue to drive content. As a marketer you need to plan how your brand can partner with influencers to navigate sensitive topics and perhaps become a part of meaningful conversations happening on social media. Digital natives will continue to expect brands to take a stance and produce content that speaks to the issues they care about authentically, beyond manicured ads.
3. NEW REGULATIONS AND INDUSTRY UNCERTAINTY
In recent years, we have seen growing government scrutiny of social and digital platforms. It's expected that a shake-down is inevitable and governments around the world will regulate the industry. New regulations of how we collect data and process disclosures, combined with the shifts in popular content formats across existing platforms, like short-form video and green-screening, will likely give rise to new emerging platforms. The biggest challenge for marketers will be to stay on top of all new tech, culture and regulation transformations. At oona we've invested in our in-house legal counsel curated by Tanée Lauwers. Read more about her tips & tricks for good influencer contracting here.
Most of the trends that we've seen develop over the last several years were accelerated in 2020 as brands turned to influencers to help them navigate sensitive topics and an uncertain market. Within the next five years, we expect the influencer marketing industry to reach its age of maturity. Precise performance metrics and ROI attribution have finally become possible and non-negotiable parts of influencer marketing strategy.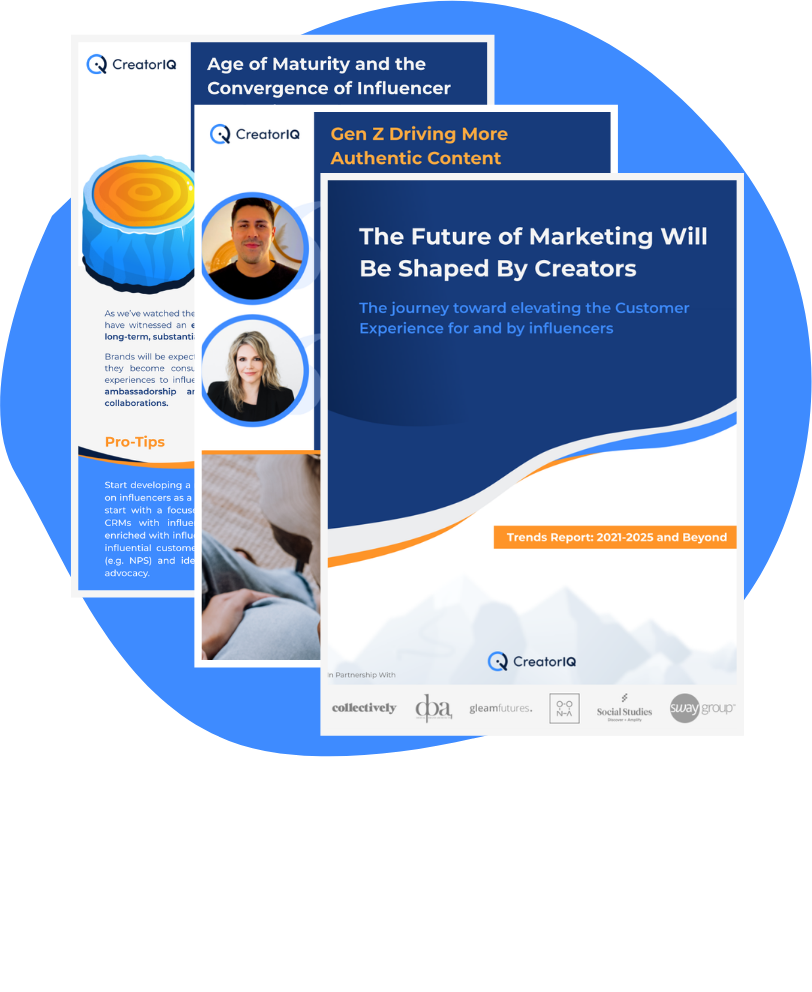 Want to read the full version of CreatorIQ's whitepaper? Click on the button below to get the good stuff.
Get the pdf
Eager to know more?
Get in touch!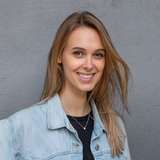 Shanice Engel
Communications Director - She/Her