A historic building on the banks of the Scheldt is not bad to start with. But it's quite another challenge to grant stately old walls with the same multi-flex-slasher attitude as the team working there. Fortunately, stories are what we're good at, and we know who to send for when we want a story told. Enter PJMARES, designers with Scandinavian logic and Italian sexiness, who have already tackled SANBA, our hospitality space that opens next year. The task at hand: redesign our office so that it works, and keeps on working.
The building on the Rijnkaai was once part of the Red Star Line. A hundred years ago, migrants bought their luggage here, looking for a new story in the new world. Today it is still in full movement. "As an agency you're always shapeshifting. Now we have evolved into an ecosystem with multidisciplinary teams," says Birgit.
No more delineated departments, but expert teams, each with a very different dynamic and working mode. Then it makes little sense to define zones for the communication people here and the, er… other communication people there. Birgit: "Both in terms of media and influencer marketing, you notice that everything is converging and mixing. This also means that you are bringing people together from different areas of expertise. And everybody needs to get a place in our office."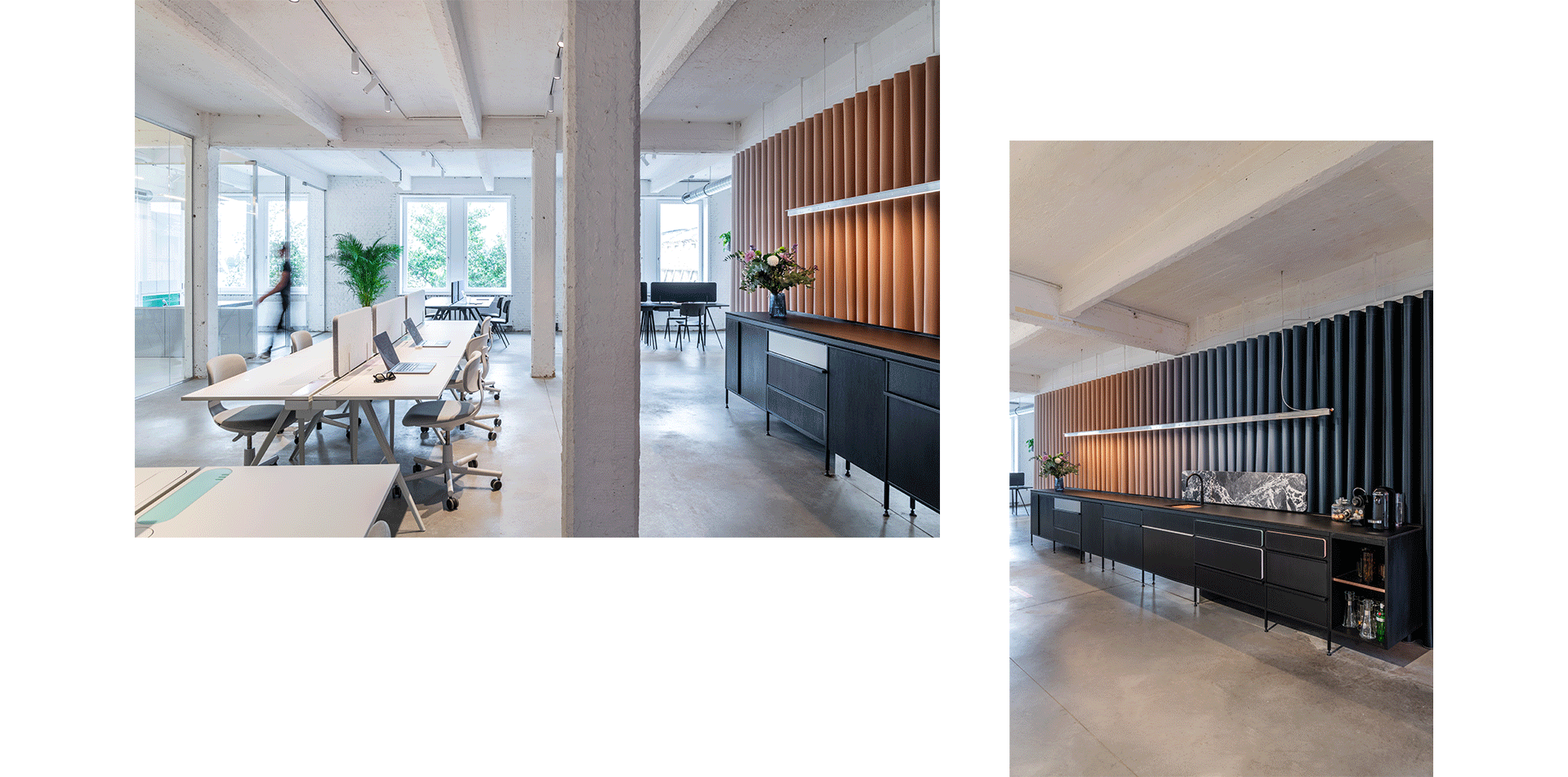 A FLEX OFFICE, THEN?
Yes, but without falling into the trap of the clean desk that makes you feel as if you don't have your own spot, that you're not really welcome. Tom: "If someone wants to work quietly and concentrate, there is the silent space. If you'd rather have some social contact or a meeting, you can go to the kitchen. Rather than designating fixed areas, we concentrated on the circulation between the spaces."
"
"To me, more than ever, the new workplace feels like coming home."
— Birgit Hubloux, oona founder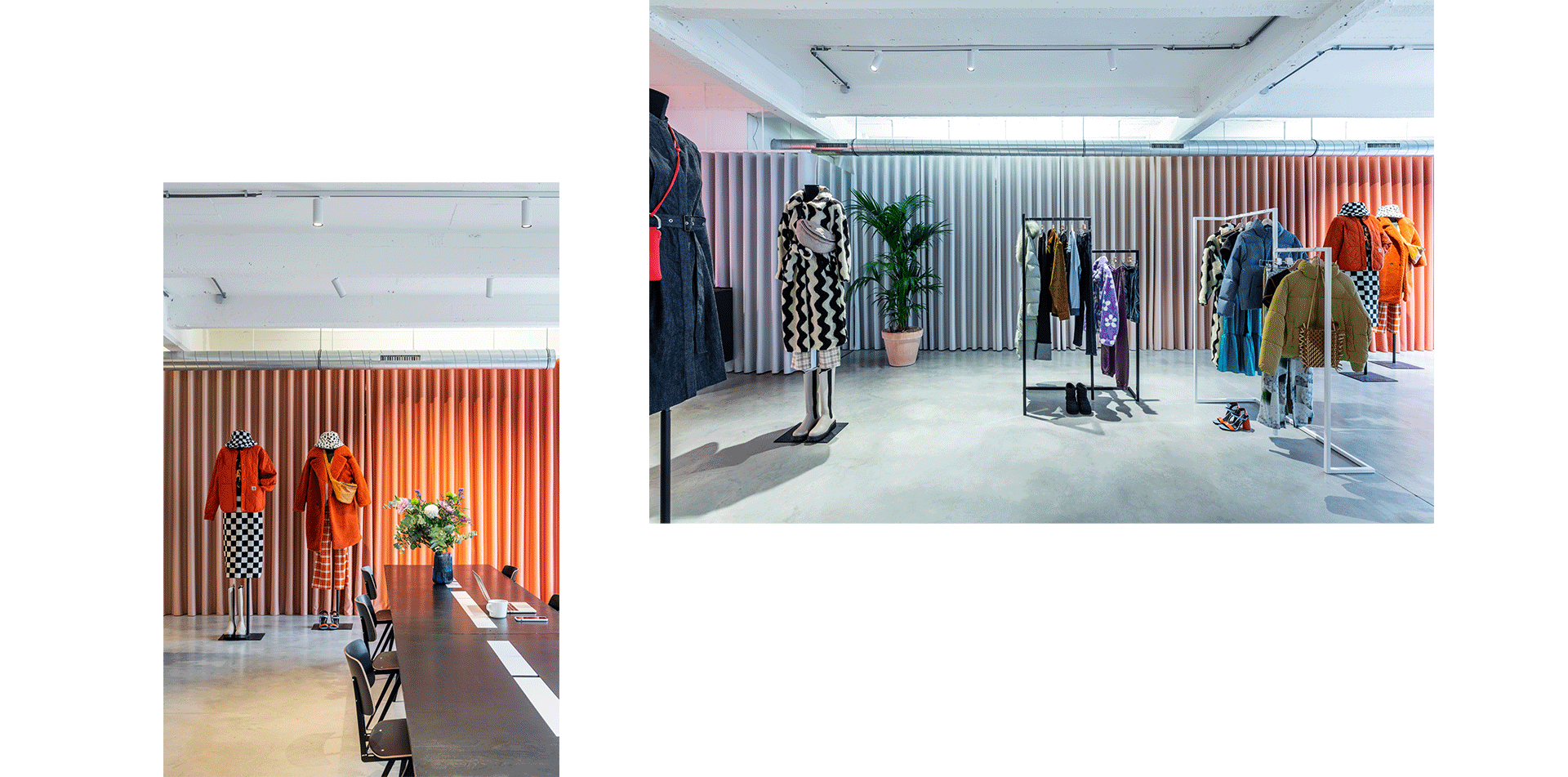 Birgit: "It is a flex office in the sense that everyone can plug in or out depending on the type of work. But for me, more than ever, the new workplace feels like coming home." And so there is also room to linger. The office cliché of the coffee machine, but a little different. As a focal point between all the multiflex, Tom chose to set up a Nomax in the kitchen. "This is a frame that you can fill as you please. The oona kitchen is now so long that it almost looks like a huge bar." No better place to stick around than at a counter, right?
"
"You can strive for perfection, but by intentionally adding a slight mistake, you create the friction that makes a space exciting."
— Tom Mares, Designer PJMARES
NEON DEMON AND PERFECT IMPERFECTION
Overall, the result feels quite cinematic. That is no coincidence, because Tom took his brightly coloured inspiration from Neon Demon, the movie by Nicolas Winding Refn. "We played around with deep blues and reds, but also with neon lights," he says. That kind of jangling colour combinations and quirky elements is what makes a space intriguing. "Here and there, you would say that something feels a bit off. But it is the unexpected clash that makes the difference. You can strive for perfection, but by intentionally adding a slight mistake, you create friction that makes a space exciting."